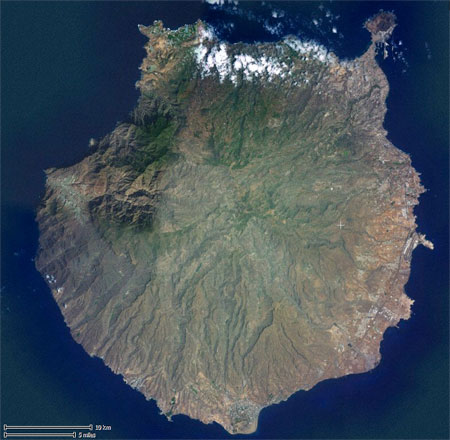 Los Giles
Official landing is at the take off (top landing),no more landing at the auditorium please.
Emergency landings are not so big, on your left hand side (when standing at the take off) there is a little farmhouse with a not so big piece of flat land, well, that's your best choice, right underneath the take off there is a smaller place, this is only your last resource, and on the east side there is a monument (sort of) which is an option if you are not going to make it to the auditorium.
Getting to this place by public transport is painful and a taxi would charge you more than our small fee. If you have your own car, make sure to get back to get it before darkness.
La Isleta
+30 k wind is common and actually, needed if you want to climb high.
The main wall is the highest point you can see from the start place.
This is our favorite acro spot but it's also beautiful for soaring all day long.
Top landing can be tricky, if you don't feel comfortable, land at the bottom and walk back up.
This is a military area, go with local pilots.
Cuesta de Silva
This is the start place for most Cross Country flights along the coast, even dynamic flights are long and incredibly beautiful.
Official landing is at the beach, there are many small rocks that can make it hard to run, boots recommended unless you are good enough for using the 20 mts. sand stripe (picture's left hand side).
Be specially careful with high tide because the beach almost disappears. Waves can get very big also, if you don't feel comfortable use a bigger piece of land before the beach, we strongly suggest that you drive and pick a landing spot first. Before driving uphill take the road that leads to San Felipe and find one that suits you.
The take off is not so great and can be tricky, normally from what it looks like a road. There are 3 "wind socks", look for them and if they all go in opposite directions you know what to do (or what not to do). Watch out for power lines.
It's also easy to be over 400 mts above de sea, if wind is coming a bit from the west, this is a nice place for maneuvers if not, forget about it. With big waves don't even try maneuvers you don't master.
Cumbre
There are 4 take offs at the top of the island, one for each wind direction, they are all natural and over 1500 mts. The one facing west use to be very popular but now there is a telephone wire right in the middle.Even though it is still possible to take off, it does require some skills and I would not suggest that you go on your own the first time, the place is easy to find since it's 1 Km south from Cruz de Tejeda, a very touristy look out. Look for a dirt road going up hill and park after 100 mts.
The rest of the start places are very hard to find since you have to walk a bit.
This area is out of the question during summer months unless you are very familiar with the place and the conditions. During our hot winter the area is really good and the scenary is fantastic.
Check the meteo before starting your way up the mountain, if the wind is picking up and over 10 k before 11 am don't even bother, you normally have to go early and wait for the right conditions.
Pico de Viento


This is one of the nicest spots on the Island, with smooth wind blowing, this is the place where you want to be.
If it´s sunny (quite normal) thermic flight is just perfect here.
If it´s windy, save yourself the trip, being in a corner of the island, this place can get very windy.
The take off is very wide and clean but it can get tricky when wind is not constant.
Official landing spot is the football field at Piso Fuerte, when standing at the take off and looking straight to Agaete, the field is at 2 o clock (50º rigth), follow the ridge on your right hand side and keep going straight. Being a bit brownish-gray it's not so easy to spot from the launch but there are quite a few landing places near the road on the way up, so keep an eye on them while driving.
Getting here without knowing is not recommended at all, there is a little white church near San Isidro where you start your way up the mountain, after 10 k drive there is a dangerous road split and you turn right, after that it´s a spider web of dirt roads for about 3 km more.
Good luck
La Laja
A very maritime flight since you can spend a lot of time flying over the sea.
The take off (right of the picture) is not orientated the same direction as the main wall, so it can be a little bit tricky, but once flying it´s a nice and easy soaring flight.
Official landing right at the beach (sand), top landing requires good control and knowledge.
Maneuvers are also possible but keep in mind that there is a high speed road at the bottom and drivers don´t know you are on an emergency chute.
In the past, some locals complaint about people flying over their houses, this has not been a problem any more but please, be very respectful with the neighborhood.
That is it, have fun, on a good day you could spend several hours flying over 200 mts above the sea.
Km 13


When the wind comes from the north-north-west but it´s too windy for Coloradas and you have cross wind from the left hand side in Cuesta de Silva, then KM 13 might be your only choice left.
The take off is the big flat land on top of the mountain you see on the picture, the best thing for landing is to top land but also less than a Km to the west (not visible on the pic) you have a big piece of land next to a restaurant named El Pasito, just watch out for cables. But normally you can start here a long soaring flight along the coast, in both directions you have good walls like this, but again, be very careful with power lines.
Getting there by car is very complicated to explain so I won't even try, I thing the quickest thing if you don´´ know the area, would be to walk up, leave your car at the restaurant next to the gas station and bring some water, it's only 90 mts. high.
Jinamar
This is more like an extra, we normally don´t fly here since it is the same orientation than Los Giles and it is a much smaller wall, but just for fun or if you are really pissed off with the rest of the world, here you can bet you'll be on your own.
You need a lot of wind for staying up and the take off is a little patch right in between the two main walls, so the venturi effect here can be a bit powerful. Once airborne, piece of cake, but the toplanding will require even more control than the launch so it's much safer to land a the beach (left of the picture), and also quicker since the parking spot is next to it.
Please don't fly very close to the high way since pilots have been sent away by police for distracting drivers (you really fly next to them).
The wall is around 30 mts high x 250 mts long, beautiful views and a very relaxing experience.
In ocassions Los Giles doesn't get enough power and the wind that accelerates along the east side of the island hits this place. In those cases you won't be alone here.